Stahls' Offers Redesigned Online Ordering Wizards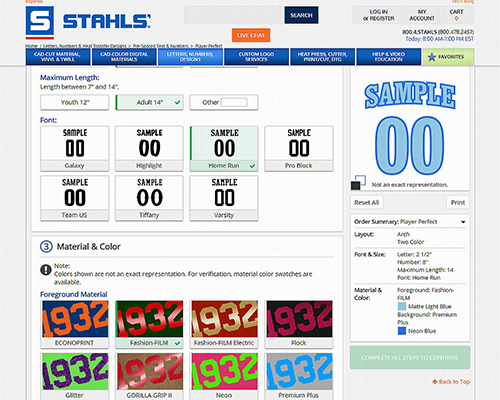 ---
Stahls', Sterling Heights, Mich., has unveiled a new online ordering wizard for a variety of its product lines.
Created with current purchasing trends in mind, the redesigned user interfaces allow for more efficient ordering from various types of devices and provide a better mobile experience, according to the company.
The new approach streamlines workflow by "building" an order as specifics are entered. It features a single-entry point, as opposed to list/view options, to prevent confusion and information loss. Rather than opening tabs, clicking on a button brings up only information and choices required for the order as you navigate the process — thus "educating" customers as they go through the process.
The new wizards also feature fast-loading and quick preview responses. For example, while customers are previewing one option, others remain displayed, and allowing them to toggle between, make changes and quickly view them — without losing information.
The ordering wizard for some products/applications, such as Kiss Cut in Any Word. Any Way. and Pre-Cuts, displays only materials that are compatible with each other to reduce errors. — J.L.
---
Stahls' TV, Sterling Heights, Mich., recently offered a video that shows what it takes to start a profitable heat-printing business.
FULL STORY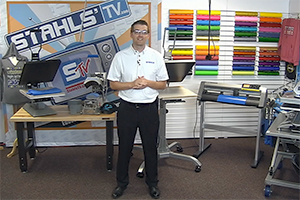 Brother DTG, a division of Brother Intl. Corp., Bridgewater, N.J., recently launched its new Brother GTX direct-to-garment (DTG) printer during a Facebook Live broadcast.
FULL STORY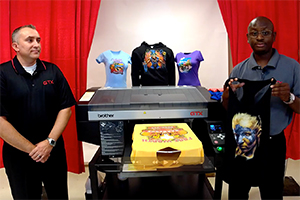 Stahls' TV, Sterling Heights, Mich., offers a new video on how adding a vinyl cutter can help embroidery, screen printing and heat printing businesses expand sales opportunities while maximizing profitability.
FULL STORY