RTP Apparel, Image Armor Announce DTG Training
RTP Apparel and Image Armor, New Philadelphia, Ohio, recently announced they will hold a direct-to-garment (DTG) printing training and educational seminar in conjunction with Equipment Zone, Franklin Lakes, N.J.
The all-day DTG Training and Educational seminar, which will be held Sept. 13, will introduce DTG printing to those interested in getting into the industry or wanting to learn more about the process. Course attendees will mainly work with the Epson F2000 DTG printer.
The seminar will include an introduction to DTG printing, as well as instruction on pretreating basics, preparing artwork for DTG and printing demonstrations. Discussions will cover such topics as what can and can't be printed, what to do before the printer arrives, warranty and service, artwork preparation, printer maintenance, specialty DTG printing platens and more. Attendees also will engage in hands-on printing.
Coffee, lunch, drinks and a special mystery bag of goodies also will be provided for all attendees. Interested parties also can purchase RTP Apparel and Image Armor products, including shirts, pretreatments and equipment, while at the seminar.
---
Transfer Express, Mentor, Ohio, is offering a free 30-day trial for decorators to become dealers.
FULL STORY
Brother DTG, a division of Brother Intl. Corp., Bridgewater, N.J., has released a new ink series with a larger color gamut and more eco-friendly packaging, according to the company.
FULL STORY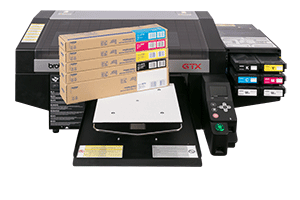 OKI Data Americas, Irving, Texas, recently named Johnson Plastics Plus, Minneapolis, as its preferred partner for the North American print-for-pay franchise market.
FULL STORY