Kornit, Cimpress Extend Procurement Agreement
Kornit Digital, Rosh-Ha'Ayin, Israel, recently announced a global procurement agreement with mass-customization provider Cimpress to continue supplying Cimpress with multiple Avalanche Hexa R-Series direct-to-garment (DTG) printing systems.
The deal is a continuation of an agreement reached last year between the two companies, who share a 10-year relationship. The new systems will be used in several international production facilities to boost Cimpress' production capacity and expand the range of possible applications. The Avalanche Hexa R-Series will enable Cimpress to digitally produce more colorful and sophisticated personalized products on an array of garment types, according to the company.
Cimpress originally used Kornit Storm systems in its production facilities and has expanded the systems to multiple facilities throughout its global manufacturing network as demand for custom apparel has grown.
"Since 2003, Kornit has been focusing on developing digital, highly productive tools for the mass-customization business models of today," says Gilad Yron, Kornit's executive vice president of global business. "Key customers and partners like Cimpress have contributed valuable feedback, played a significant role in defining requirements and validated our commercial approach. We look forward to continuing the relationship and helping Cimpress to satisfy the ever-growing demand of their customers even better in the future." — J.L.
---
Transfer Express, Mentor, Ohio, is offering a free 30-day trial for decorators to become dealers.
FULL STORY
Brother DTG, a division of Brother Intl. Corp., Bridgewater, N.J., has released a new ink series with a larger color gamut and more eco-friendly packaging, according to the company.
FULL STORY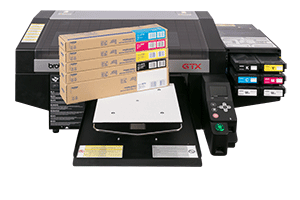 OKI Data Americas, Irving, Texas, recently named Johnson Plastics Plus, Minneapolis, as its preferred partner for the North American print-for-pay franchise market.
FULL STORY