Hirsch Offers Cap-Printing Video
Hirsch Solutions, Huntersville, N.C., has released a new video showing how to use the Brother GT-381 direct-to-garment (DTG) printer to quickly and easily print high-resolution, full-color art on cap bills.
In this segment of the Brother GT3 "Print More Than Tees" video series, viewers will see how, by simply securing the bill with double-sided tape, using a template or tape to confine the image area and pressing start, they can print with up to 1,200 dpi resolution. Offering caps allows decorators to upsell T-shirt sales.
Using the GT-381 to add caps to your custom printing applications can allow decorators to expand their offerings to teams, clubs, schools and businesses, according to the company.
---
Transfer Express, Mentor, Ohio, is offering a free 30-day trial for decorators to become dealers.
FULL STORY
Brother DTG, a division of Brother Intl. Corp., Bridgewater, N.J., has released a new ink series with a larger color gamut and more eco-friendly packaging, according to the company.
FULL STORY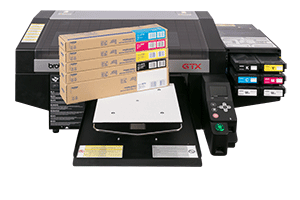 OKI Data Americas, Irving, Texas, recently named Johnson Plastics Plus, Minneapolis, as its preferred partner for the North American print-for-pay franchise market.
FULL STORY