AnaJet Launches RICOH Garment Ink
AnaJet, Tustin, Calif., recently launched a new line of CMYK ink that is compatible with the RICOH Ri 3000, Ri 6000 and AnaJet mPower direct-to-garment (DTG) printers.
When RICOH aimed to develop a new ink for DTG customers, the goal was to match or surpass the color output and performance of PowerBright PLUS inks and pass savings on to customers, according to the company. A standard cartridge of the new RICOH Garment ink now is available online in the AnaJet store for United States customers for $44. An XL cartridge is available for $86.
RICOH Garment ink currently is available only in CMYK; white will come at a later date. The company performed several blind print comparisons among RICOH Garment ink, as well as Spectrum and PowerBright PLUS inks. Many participants were unable to determine a difference, according to the company.
---
Transfer Express, Mentor, Ohio, is offering a free 30-day trial for decorators to become dealers.
FULL STORY
Brother DTG, a division of Brother Intl. Corp., Bridgewater, N.J., has released a new ink series with a larger color gamut and more eco-friendly packaging, according to the company.
FULL STORY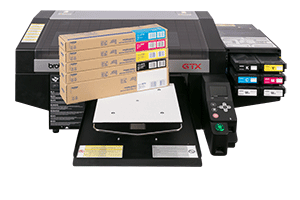 OKI Data Americas, Irving, Texas, recently named Johnson Plastics Plus, Minneapolis, as its preferred partner for the North American print-for-pay franchise market.
FULL STORY