Build Your Business: Trends

---
Love, Peace and Fleece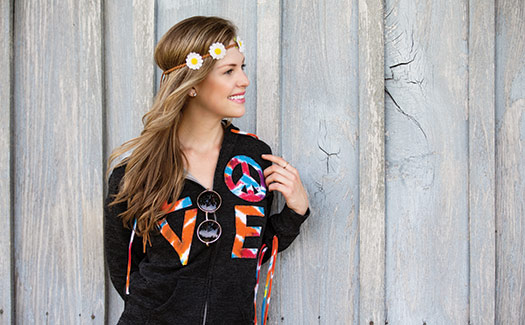 ---
One of the best things about being in the decorated apparel industry is the opportunity to be creative. Even if you come up with an idea that may not necessarily be production friendly or ideal for a high-volume job, it pays to play around with your equipment and supplies, and try some new things.
I have always found that I can get more dollars for my work by putting a creative twist on it.
Sometimes, a sample simply makes a nice showroom piece or can be taken to a sales presentation to show customers that you don't operate a run-of-the-mill shop. Impress them with your ability to be innovative and different. It may get you the sale.
When I am brainstorming ideas for a new piece, I always like to start with a theme. I recently came up with the idea to do a retro 1970s look using two classic fashion trends: tie-dye and fringe.
With a black, full-zip hoodie from Independent Trading Co. as my canvas, I knew I wanted a really bright tie-dye design that would pop off the fleece, but I also wanted to create something unique.
I have a CO2 standalone laser that I use for a lot of appliqué work, but this project could be done with scissors. In fact, I used them to cut the strips, although they also could have been cut on the laser if I wanted to speed up production.
I used two 2XL tie-dye T-shirts. One shirt supplied the strips for the fringe; the second was used for the two "peace" signs and "L," "V," and "E" appliqués. This project requires a tubular T-shirt, as the knitting process causes the ends to curl. This is preferred for this kind of job because the edges are raw.
The total cost of materials to make this hoodie ranged between $12 and $15. However, I think the finished garment would sell in a boutique for somewhere between $85 and $120. There is labor involved in creating and attaching the fringe, but you could buy fringe if you wanted to speed up production.
The takeaway from this project is you don't need a lot of fancy machinery to create unique decorated apparel; you can do so with your shop's current equipment. All it takes is willingness to dedicate some time to experimenting and searching for ideas. It has paid off for me, so I know it can pay off for you.
Following is a look at how I accomplished this piece.
Step 1. Prepare the T-shirt. After turning it inside-out, spray one side with household starch. Then, turn it right-side-out and heat press it at 330˚F-340˚F for 30 seconds. This makes the front and back stick together, which is necessary to prevent the two layers from sliding around when cutting the fringe strips.
Step 2. Using a straight edge and any kind of pen or marker, draw lines about 1 inch apart from the bottom of the shirt up to the armpits. Because the strips will curl, the marker won't show.
Step 3. Once all the strips are marked, cut each strip along the lines using a pair of shears. Don't cut all the way through at the ends because you want it to be one continuous, long strip. Leave about ½-inch uncut at each end. It's a matter of personal preference, but I staggered the length of the strips, with the longest starting under the arm and the shortest at the wrist. Once measured, cut the individual strips to form the fringe.
Step 4. The fringe strips can be inserted along the seam of each sleeve. First, mark how far apart you want to attach each strip. Then, make slits in the seam using a utility knife — the type with a blade mounted on a pen-like aluminum body. Insert the strip through the hole and center it. Tie two tight knots and you're done. For my project, a 2-foot strip was reserved for the drawstring. The original drawstring was pulled out and, using a coat hanger, the tie-dye drawstring was inserted, with a knot tied at each end.
Step 5. Use a vector graphics program to prepare a full-size peace sign for the back of the sweat shirt, and a smaller chest-size peace sign and the letters "L," "O," "V" and "E" for the front. Then, send this artwork to the laser. With the art ready to be cut, lay the second tie-dye shirt flat on the laser bed.
Step 6. Here you can see the word "LOVE" with the peace sign for the O after it has been cut by the laser. Next, pull the excess fabric away.
Step 7. Shown here are the cut appliqué pieces prior to being moved to the hooped sweat shirt on the embroidery machine. These pieces can be hand cut with scissors, but the laser dramatically speeds up this process.
Step 8. On the hooped fleece, sew an outline stitch showing where to place the appliqué pieces. Apply adhesive spray to the back of each appliqué piece before it is positioned on the sweat shirt. This prevents it from slipping during sewing. In my example, an "E-stitch" was used to sew down the appliqué. This gave the appliqué more of a hand-sewn look.
Step 9. The finished garment.
Greg Gaardbo is president of Shockwaves Promotional Apparel. He has won more than 40 Impressions Awards. His company, which offers screen printing, embroidery, rhinestones, sequins, and embroidery laser appliqué and engraving, specializes in creative, innovative techniques and special effects. For more information or to comment on this article, email Greg at greg@shockwavesapparel.com or visit shockwavesapparel.com.
---
With the right marketing and selling strategies, this burgeoning category can bring big business to your shop.
FULL STORY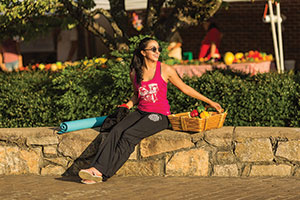 Technology, e-commerce, fast delivery and customer engagement currently are hot retail topics, but these trends go beyond the business-to-consumer world.
FULL STORY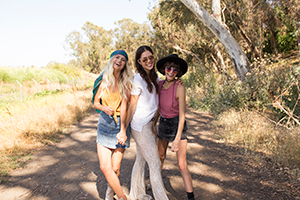 It can be argued that trends don't bob and weave in any other industry segments as frequently as in the childrenswear and teens/tweens apparel categories.
FULL STORY